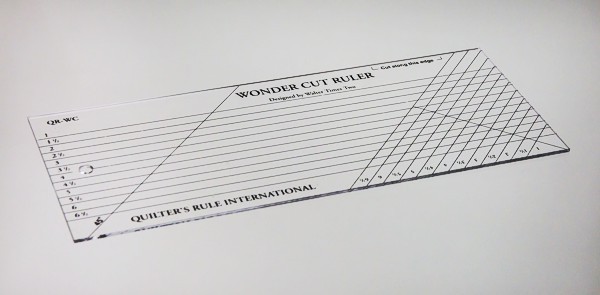 Quilting and Sewing Related Web Sites
Sew Batik
A direct merchant with a passion for designing, sourcing and distributing exquisite batik and hand dyed fabrics.
American Professional Quilting Systems
APQS long arm quilting machines combine aircraft aluminum with state-of-the-art electronics to provide ultra light construction and effortless operation. They were the first to introduce motorized fabric advancement, automatic needle positioner, automatic bobbin thread cutter and much more...
A-1 Quilting
A-1 Quilting Machines of Springfield, Missouri are manufacturers of the A-1 LongArm and have made it possible to turn a delicate, traditional hobby into a profitable hobby or business.
Creating Homemade Quilts for Your Mattress
This article is a quick reference for any quilter, beginners to experts. It lists everything you need to begin your quilt!
Cutting Accurate Quilts
A blog entry from The Quilt Factory that contains tips on how to cut fabric accurately using our new Basic Blocks and Simple Strips.
Gammill Quilting Systems
Machine quilting has come a long way since the days when it was attempted on standard domestic and industrial sewing machines. Imagine the laborious and cumbersome process of moving three layers of fabric through a stationary machine, using only free-style patterns or patterns you had to rely on memory, artistry and technique to perfect!
Nolting
The Industry Standard in Hand Guided Quilting Machines
Handi Quilter
Long arm machines and quilting tools.
Pennywinkle Valley Ranch
Expand your creative expression with the Pennywinkle Valley Ranch Home Quilting System. You'll be amazed at the quality and affordability they offer!
www.pennywinklevalleyranch.com
Fabric Art Shop
Offers a large selection including textiles, books, classes, gallery, patterns, threads, tools and accessories.
Walter Times Two
Creators and teachers of the Wonder Cut and Wonder Cut Triangle Rulers.
Creative Curves
Quilt designer and inventor of the Creative Curves Quilting System and the Creative Curves Kaleidoscope Ruler.
Kaye Wood
Kaye's Television program, Kaye's Quilting Friends, is a warm, up-beat program dedicated to teaching quilting & sewing techniques by renowned teachers from around the globe.
European Quilting Supplies
Supplying threads, fabrics, wadding, notions, software and books-to-patchwork to quilting and craft shops throughout Europe.
Quiltbug Quilt Shop
Their online store is always open. They offer quilt fabric and material, patterns, batting, books, sewing notions and supplies, lots of quilting tips and suggestions and plenty of free stuff! In short, everything a quilter needs.
Cathy Franks
Cathy is a teacher who has won numerous awards for her quilts and her clients have won awards for their quilts that Cathy has longarm quilted. Please check out the Class Description page to see a briefing of what she teaches. The Class Schedule page will keep you posted with Cathy's latest teaching, personal and television appearances.
The Perfect Corner Ruler™ and the Perfect Corner Method™
Finally a ruler that will help you make accurate corner triangles and save fabric. Also check out Raggedy Ruth Designs that use The Perfect Corner Ruler.