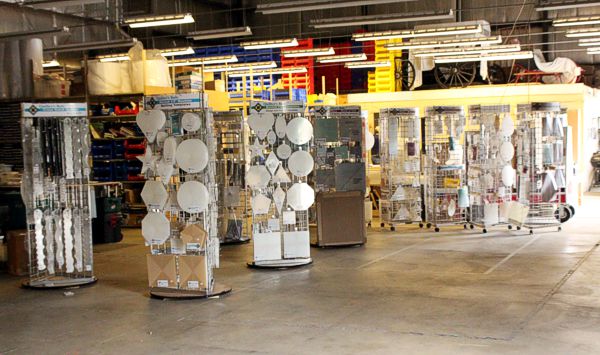 A Bit About Us and Our Mission
Our mission is to develop and produce quality quilting and sewing notions that allow any quilter or sewer to practice their art form with ease.
Quilter's Rule started in 1983 producing the quilting industry's first "fabric gripping" ruler. The Quilter's Rule signature ruler was designed to be used with a rotary cutter. Quilter's Rule has since designed many rulers with the same "fabric gripping" technology.
"We're more than just rulers!" Quilter's Rule manufactures a variety of products including:
MegaMat pinnable gridded mats, sizes range from 5" x 7" to our largest 60" x 120".
Large assortment of Machine Quilting Templates for use by short-arm, mid-arm, and long-arm machines as well as large-throated sit-down machines.
A host of Specialty Rulers.
Quilter's Rule attends quilting shows throughout the United States, Canada and Europe to stay in touch with you, our customers. For our current list of shows, visit our Shows page. We listen to your wants, desires and suggestions to improve current products or develop new products that meet your needs.
To stay in touch with us and to find out "What's New," sign up for our New Product Announcement Newsletter. To view all our products, browse through our Store or download our Product Catalog.
Quilter's Rule also does small lot Custom Manufacturing for quilt designers and teachers. We can capture your original ideas in print, on paper, vinyl or acrylic. For more information on this custom service, please Contact Us.
Quilter's Rule sells directly to retail stores at wholesale. We sell to Distributors utilizing a Distributor discount structure and directly to the consumer via the Internet and direct mail. Quilter's Rule has a small outside sales force. Additionally we serve more stores through our distributor network, which includes many of the major quilting and craft distributors in the United States and over seas. We stay in touch with our customers through periodic "What's New" catalogs, Direct mail pieces and the Internet. Occasionally, we may call and offer telephone specials.